Jeffrey Mathews made history at the age of 23 by being the only person to blow up a United States Drug Enforcement Agency (DEA) office on American soil. The firebombing turned the national spotlight on Fort Myers.
Cocaine to Go
Jeffrey Matthews sat at the top of the Fort Myers Beach cocaine trade, controlling the lucrative business from his pizzeria, Andretti's. Special customers could get cocaine to go.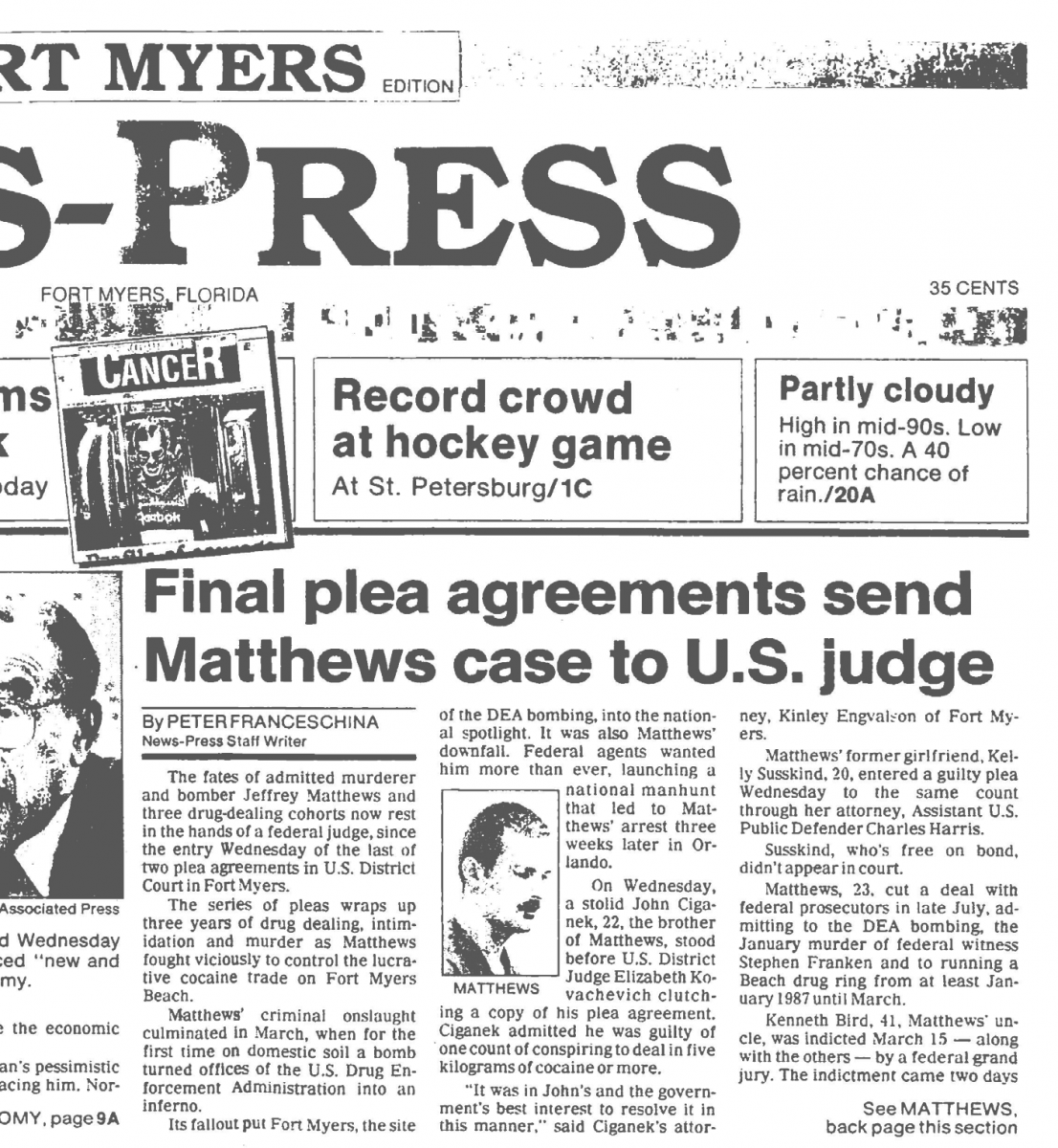 (left to right) HEADLINE: Final plea agreements send Matthews case to United States judge; a pipebomb filled with gunpowder and bullets was detonated inside the
United States Drug Enforcement Agency office on New Brittany Boulevard in Fort Myers; HEADLINE: Guilty plea entered in DEA bombing case
Matthews had been under investigation for several months, as the violence, murders, and shootings related to the drug trade made front page news. In February, the DEA and the Lee County Sherriff's Department raided Andretti's, removing boxes of evidence. Matthews made phone calls to the DEA, threatening to damage agency property. On March 15, 1990, Matthews was indicted, along with three other people, on charges of distributing cocaine, and a warrant was issued for his arrest.
Two days later, at 2 a.m., the DEA office on New Brittany Boulevard exploded when a pipe bomb packed with gunpowder and bullets attached to a five-gallon gas can was tossed inside. The spectacular early morning blaze burned the DEA offices to the ground. Firefighters couldn't get near the building because more than 300,000 rounds of ammunition were stored inside. The fire also destroyed evidence in a number of drug cases and turned the national spotlight on Fort Myers.
After the bombing, Matthews, who had amassed a large cache of powerful weapons, disappeared.
The FBI stepped in to perform forensics on the bombs, executing a search warrant on Matthews' residence, ordering wiretaps, and coordinating law enforcement efforts from Fort Myers to Jacksonville, where Matthews had personal ties. An additional 150 federal law enforcements agents and special SWAT teams were sent to Lee County, and federal agents issued a nationwide alert for Mathews, who vowed not to be taken alive.
Judges, prosecutors, and witnesses were put underguard. Armed officers stood outside the federal and state courthouses. SWAT teams and bomb squads were deployed before investigators went into storage units and homes rented by Matthews.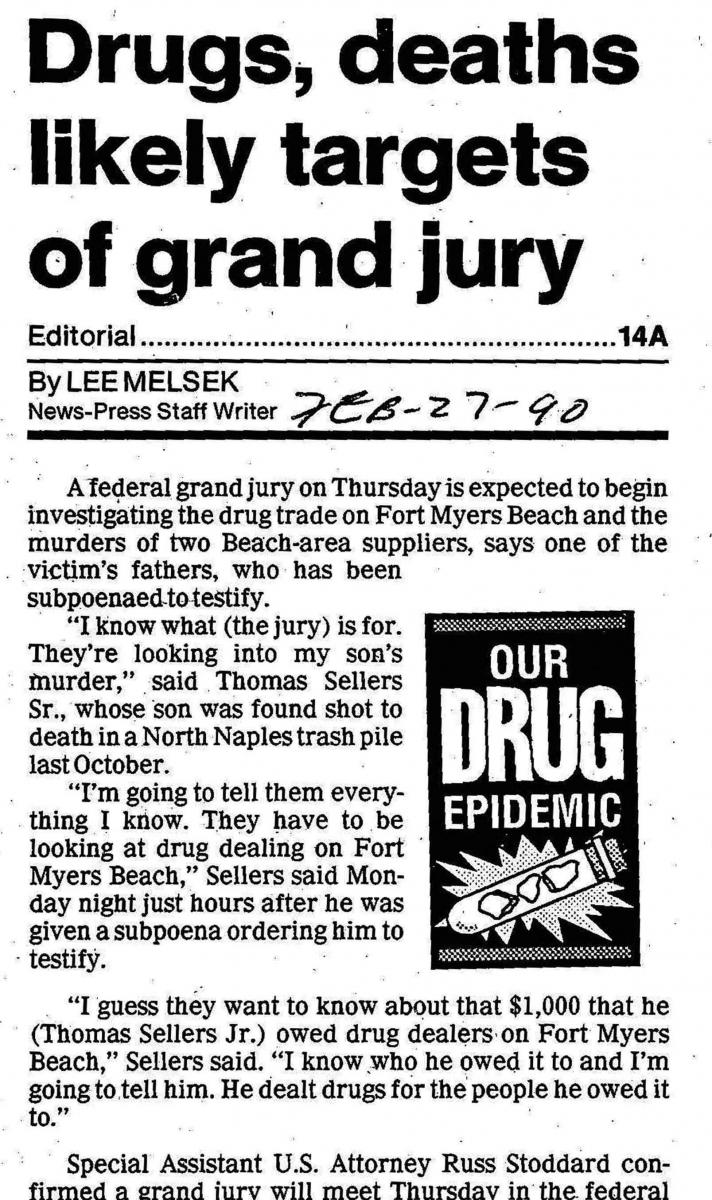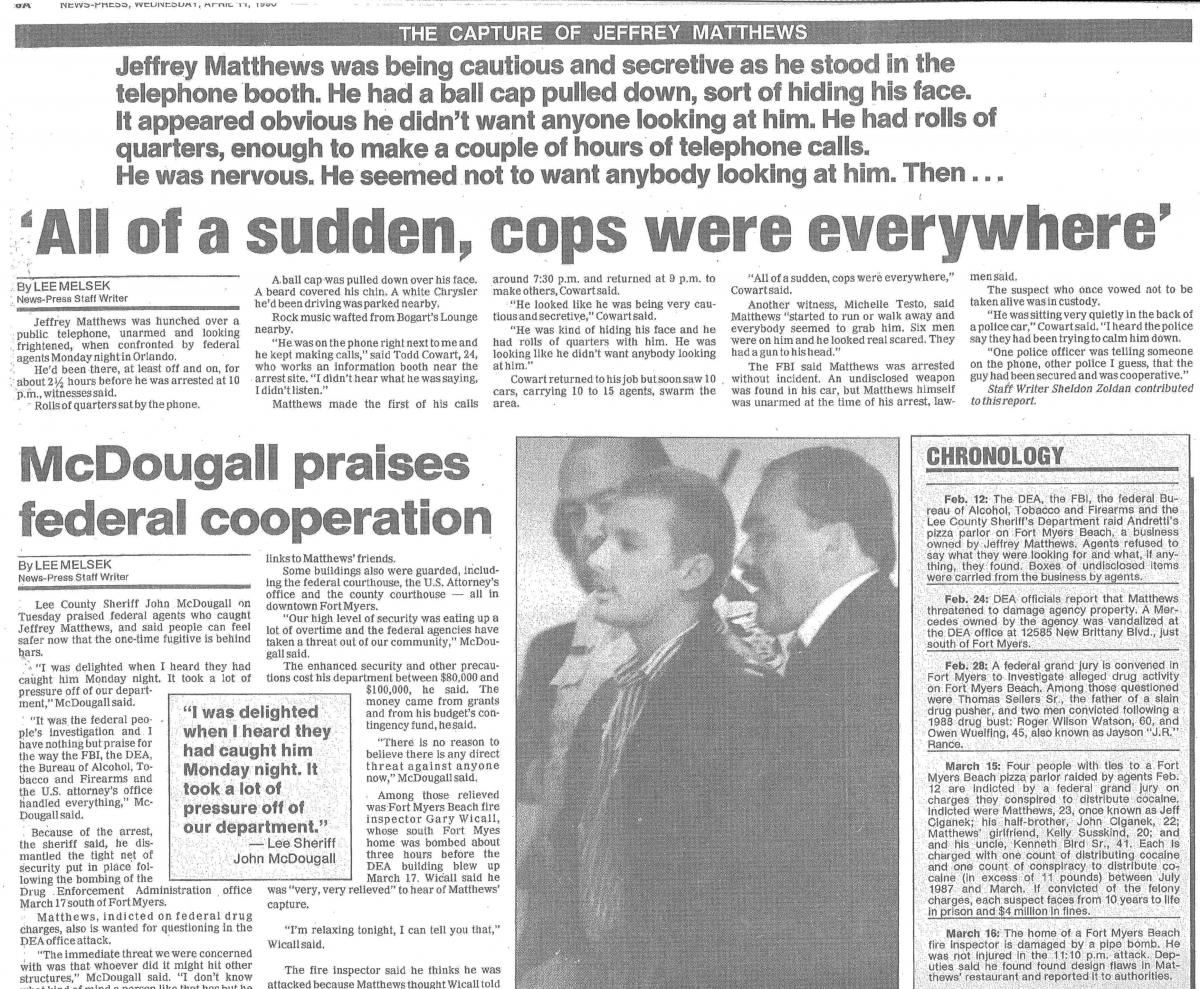 (top row, left to right) HEADLINE: Drugs, deaths likely target of grand jury; HEADLINE: 'All of a sudden, cops were everywhere'; HEADLINE: No bail, 'I fear for my life'; (bottom row) HEADLINE: Whew! The capture brings a sigh of relief
Three weeks later, a conversation with a person in Jacksonville led to Matthews' capture while he used a pay phone in Orlando. He eventually pleaded guilty to federal charges of running a continuing criminal enterprise involved in drug dealing and a murder and was sentenced to life in prison. He could have faced a federal death penalty if he didn't reach a plea agreement. Matthews also pleaded guilty to two state charges of second-degree murder and one of being an accessory after the fact to murder and was sentenced to 100 years in prison to be served at the same time as the federal sentence.
HEADLINE: Matthews please guilty to second-degree murder (left); Jeffrey Matthews ' inmate progress report (right)
Russell C. Stoddard
Assistant United States Attorney
Russell C. Stoddard was the prosecutor in the Matthews case. As prosecutor, he worked with the law enforcement agents as they gathered evidence against Matthews.
"One of my most vivid memories is being awakened by a Special Agent from the FBI and driven to the blast site. The fire and exploding ammunition lit up the sky for miles. We returned to the United States Attorney's Office and began working on an affidavit for a court ordered wiretap. Late that afternoon, the affidavit was flown by helicopter to Naples where the district court judge was residing. He signed the order and we were up on the phone that night, less than 24 hours after the blast.

The most disturbing and chilling aspect, apart from the bombing itself, was the level of violence associated with Jeffrey Matthews. It was grossly disproportionate to the amount of cocaine he was distributing on Fort Myers Beach and elsewhere."
Agent Tony Petrucci
United States Drug Enforcement Agency
"Matthews had two Lee County deputies on his payroll. He maintained a post office box where he would trade information for cash. One of the deputies informed Matthews that a man who had been arrested was now cooperating with federal authorities. Matthews and an associate set up a roadblock and shot the man in the head, killing him, as he was returning home from work.

Warrants were issued for the arrest of Matthews and his associates. Search warrants were also issued. The searches resulted in the collection of large amounts of evidence including a freezer chest buried in the mud flats near Matthews' residence. A body found in the chest was someone Matthews had killed.

Following the arrest of his associates, Matthews hired an individual to blow up the DEA office. He wanted this done while the agents were inside during a normal workday. Fortunately, the individual refused, and planted the bomb in the early hours of the morning instead."