When congress passes a law making certain conduct a crime, a federal court may have to decide whether the new crime provides adequate notice of what conduct is prohibited, a requirement of the United States Constitution.
The Bank of Credit and Commerce International (BCCI) was the seventh largest private bank in the world, operating in 78 countries with assets in excess of $20 billion. In 1988, after a two-year undercover operation, money-laundering, narcotics, and conspiracy charges were filed in Tampa against 15 individuals—some of them BCCI officers—and four corporations.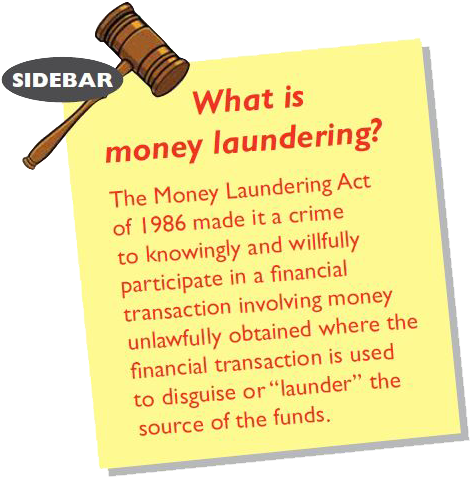 Almost three years later, United States District Judge William Terrell Hodges presided over the six-month jury trial. According to Robert Mueller III, director of the Federal Bureau of Investigation, the arrests and convictions amounted to "one of the largest money-laundering prosecutions in United States history."
Because the money laundering law was new, the trial judge had to decide many novel issues prior to and during trial. One issue was whether the crime of money laundering, measured against the United States Constitution, was legal, and if it provided adequate notice to the defendants that their conduct was a crime. Judge Hodges also had to decide a venue issue involving pretrial publicity. If the pretrial publicity about the BCCI case was so pervasive that a fair and impartial jury could not be selected in Tampa, the trial would have had to be moved to another city.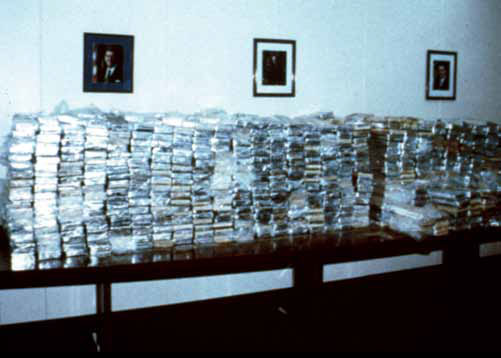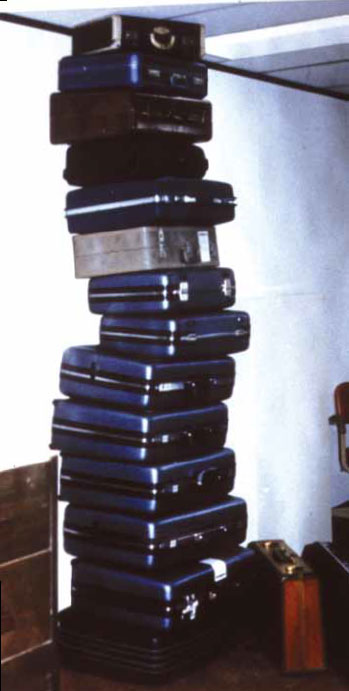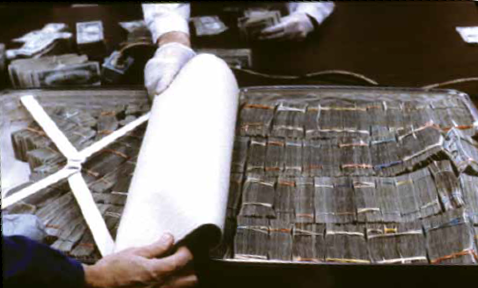 (left to right) Cocaine seized from a Chelsea warehouse; suitcases of cash; each bundle of cash held bills of the same denomination, and
the bundles in each shipment usually totaled the same amount, so launderers could easily approximate the full amount of cash in a suitcase.
Surprise Party
The undercover operation began in Tampa and stretched to Los Angeles, New York, Houston, Chicago, Panama, Costa Rica, the Bahamas, France, Switzerland, Lichtenstein, and London. It culminated at Palm Harbor's Innisbrook Resort in 1988 with an elaborate mock wedding ceremony.
The wedding guests were a Who's Who of global banking and drug cartel members who had arrived to celebrate the marriage of one of their own, Bob Musella (undercover agent Robert Mazur) and his "fiancée," a fellow undercover agent.
Federal agents took guests by surprise, arresting them, drinks in hand, as they exited their limousines on their way into the bachelor party at MacBeth's Restaurant across from the federal courthouse in downtown Tampa.
 
Robert Mazur, Federal Special Agent
Federal Special Agent Robert Mazur worked for five years undercover, infiltrating Colombia's drug cartels. As Bob Musella, a wealthy, mob-connected bigshot, Mazur partied in $1,000-per-night hotel suites, drank bottles of the world's finest champagne, drove Rolls Royce convertibles, and flew in private jets with the bankers and businessmen he befriended. Under Mazur's designer suits and in his expensive briefcase, however, tape recorders whirred quietly, capturing the evidence.
"I recorded conversations with members of the cartel, corrupt businessmen and bankers involved in the laundering of more than $34 million funneled to me to launder for drug kingpins.

At the conclusion of my undercover assignment I worked with a team of agents preparing for trials in the U.S. and abroad. In the Tampa case alone, I testified for three consecutive months."

—Federal Special Agent Robert Mazur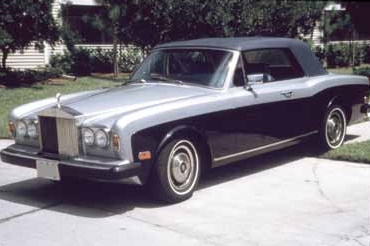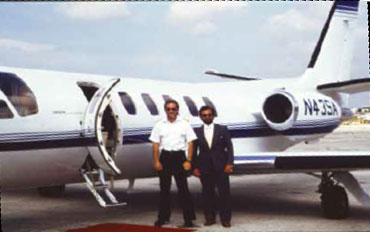 Mazur drove this Rolls Royce while undercover (left); Mazur and an undercover customs pilot standing in front of a private jet used in the operation (right)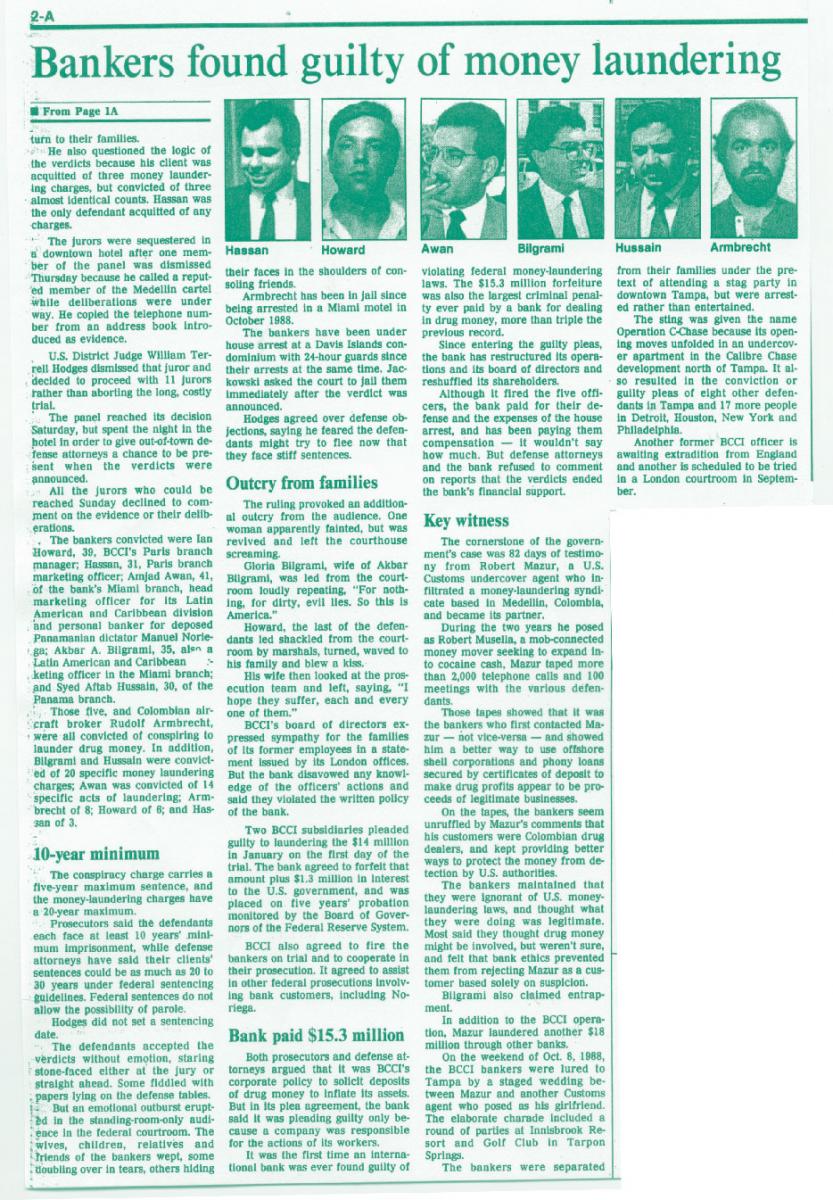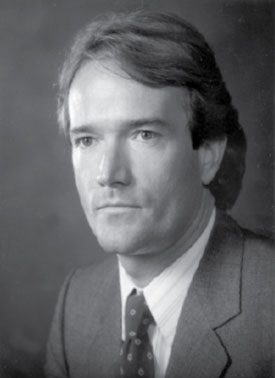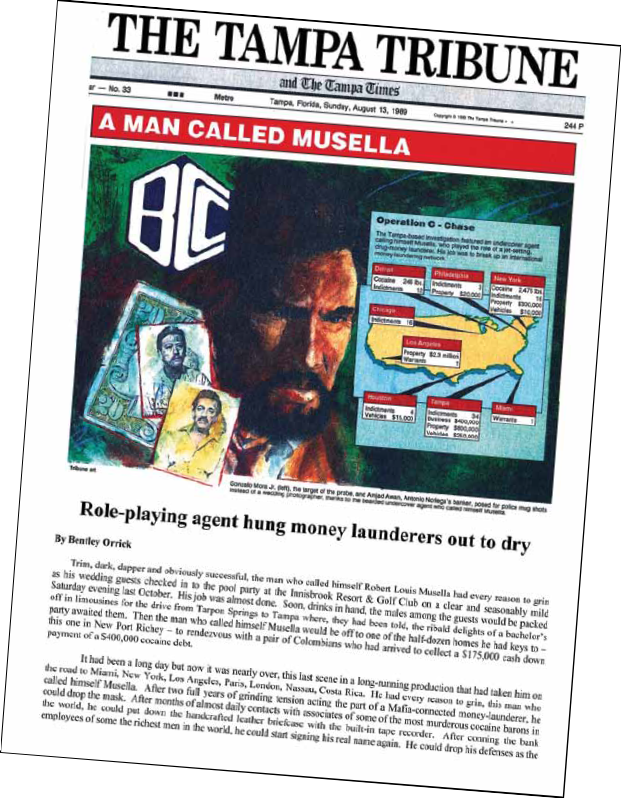 "I found the defense of the case extremely challenging, considering the undercover agent recorded numerous consensual monitorings with the defendants. We reviewed all of the recorded conversations in excruciating detail, to make certain that they were a complete and accurate presentation by the prosecution. There were a number of complicated legal questions concerning the undercover operation, which required the defense team to address international law, United States Constitutional remedies, and interface with the country of France to secure valuable defense documents and information."
—Gary Trombley, lawyer