Monday, December 19, 2022

  First Place: Noah Adelson
Lakewood High School 
Prize: $2000
Classroom Grant to Noah Adelson's Teacher, John Toronski
Grant: $500
Second Place: Sneha Balaji 
Strawberry Crest High School 
Prize: $1000
Classroom Grant to Sneha Balaji's Teacher, Taylor Davis
Grant: $500
Third Place: Prabhav Govindu
Pine View School 
Prize: $500
Classroom Grant to Prabhav Govindu's Teacher, Jack Francis 
Grant: $500
Fourth Place: Danielle Swenson
Sunlake High School
Prize: $250
Fifth Place: Mohini Sharma
Lennard High School
Prize: $250
Sixth Place: Christyan Chazares
Brooks DeBartolo Collegiate High School
Prize: $250
Seventh Place: Olivia Julich
Lake Wales High School
Prize: $250
Eighth Place (Tie): Story Pennock 
Shorecrest Preparatory School
Prize: $250
Eighth Place (Tie): Teagan English 
Pine View School 
Prize: $250
Tenth Place: Kellen Burr
Plant High School 
Prize: $250
 
Schools with the Most Submissions:
First Place: Bell Creek Academy
Grant: $1,000
Second Place: Pine View School
Grant: $500
Third Place: Strawberry Crest High School 
Grant: $250
 
Teachers with the Most Submissions:
First Place: Charles Leadingham
Bell Creek Academy
Grant: $150
Second Place: Chris Pauling
Pine View School
Grant: $150
Third Place: Kendall Nickerson
Strawberry Crest High School
Grant: $150
 
The contest attracted 562 entries from high school students across the Tampa Bay area. Students from 56 different high schools, one virtual school, and one home school entered the contest.
Students submitting essays in the Contest were asked to consider how Amendments to the United States Constitution have helped to promote and advance our founding document's overall goals. In particular, students were asked to examine the Constitution's preamble, and then select one of the 27 amendments and explain how that Amendment upholds the framers' goals as articulated in the Preamble.
The 562 essays submitted were thoughtful, insightful, and demonstrated an understanding of the framers' initial goals for our democracy. The Top 10 winners' essays each presented diverse responses to the essay prompt by delving into the history of the First, Sixth, Eighth, Fourteenth, Nineteenth, and Twenty-First Amendments and convincingly articulating how each Amendment advanced the framers' goals.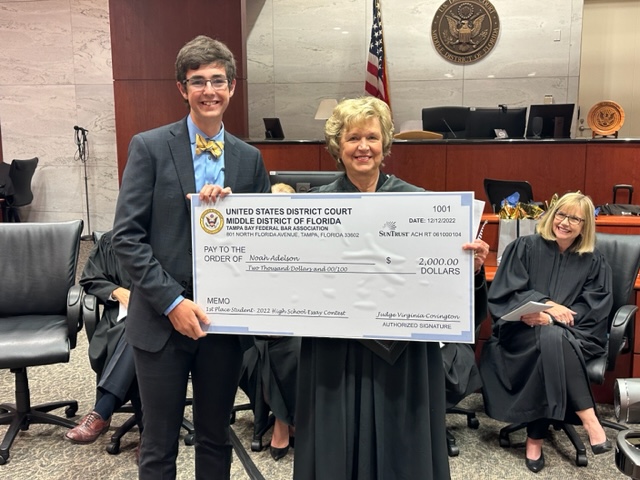 The student winners were recognized at a formal ceremony at the Sam M. Gibbons United States Courthouse in Tampa on December 12, 2022. Judges Virginia Hernandez Covington, Susan Bucklew, Caryl Delano, Anthony Porcelli, Amanda Arnold Sansone, Julie Sneed, and Christopher Tuite presided over the ceremony and presented awards to the individual students and their teachers. In addition, the three teachers and the three schools with the most qualifying essays were recognized and received cash awards to be used as classroom grants. Chief Judge Corrigan made remarks at the beginning of the ceremony via video zoom. All ten student finalists were in attendance along with their parents and other family members. Not only did their teachers attend, but several principals and school administrators were also in attendance.
The contributions to the Essay Contest demonstrated the students' strong knowledge of our Constitution's foundations and goals as well as their ability to form persuasive arguments. At the awards ceremony, the Judges who helped grade the essays praised the overall strength of the submissions, highlighting the participating students' insightful arguments and impressive writing skills.