PLAN AHEAD FOR THE
2021-2022 SCHOOL YEAR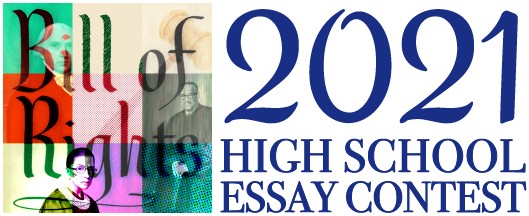 ---
THE LAWYERS AND JUDGES of the United States District Court, Middle District of Florida, through the Middle District Bench Bar Fund and the Jacksonville Chapter of the Federal Bar Association,
INVITE HIGH SCHOOL STUDENTS IN GRADES 10-12 in Baker, Bradford, Clay, Columbia, Duval, Flagler, Hamilton, Nassau, Putnam, St. Johns, Suwanee, and Union Counties,
TO PARTICIPATE IN AN ESSAY CONTEST celebrating the 230th anniversary of the ratification of the Bill of Rights to the United States Constitution.
FOR THE CHANCE TO WIN CASH PRIZES
---
First Place
Second Place
Third Place
Fourth through Tenth Places, each
Classroom Grants for Teachers
Grant(s) for School(s) with the Most Qualifying Submissions
$ 2,000.00*  
$ 1,000.00    
   $ 500.00    
     $ 50.00    
$ 500.00**
$ 500.00–$1,000.00**
*   
The first place winner also will have an opportunity to shadow a
Federal Judge
for a day.
** Eligibility requirements & restrictions apply.
 
---
---
For More Information Contact Suzanne Judas, Community Outreach Coordinator, at: