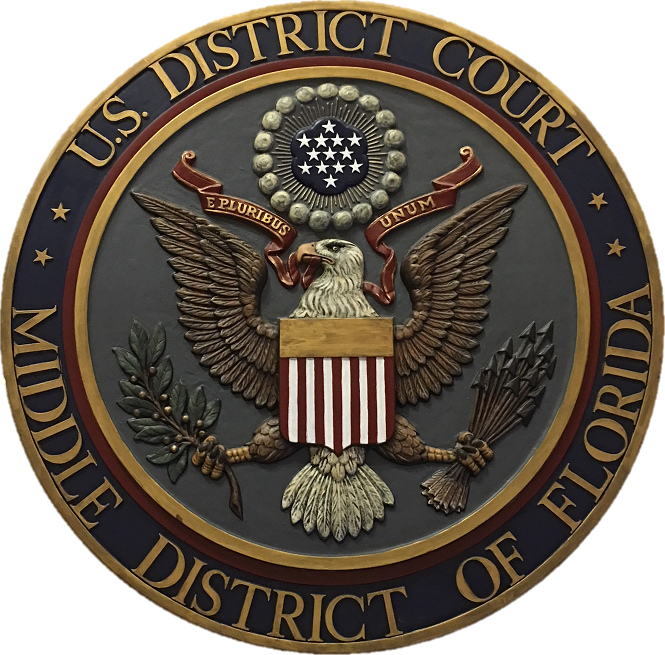 United States District Court
Middle District of Florida
New Pro Bono Plan and New Forms
The Middle District of Florida recently revised its Plan for Pro Bono Representation by Appointment in Civil Cases. The revised Plan makes the process for pro bono appointments easier to understand and administer. Below is a summary of important changes: 
Appointment: A judge may request that the clerk: (1) publish a pro bono appointment opportunity on the court's website; and (2) contact the voluntary federal bar organization in any division to request that the organization identify an attorney willing to accept appointment or publish the opportunity to its membership. If an attorney accepts an appointment, the judge must enter an order of appointment.
 
Expense Budget: Expense budgeting is now mandatory if appointed counsel intends to seek reimbursement later. The order of appointment must direct counsel to submit a new Proposed Expense Budget form for approval within 60 days. Once a budget is approved, appointed counsel will be reimbursed for budgeted expenses up to the amounts approved in the budget so long as the expenses were actually paid by counsel. Counsel may submit an amended budget for approval if the circumstances of the case necessitated additional expenses or expenses in higher amounts than previously approved.
 
Petition for Reimbursement: No later than 45 days after the case is closed or the representation has otherwise ended, counsel must submit for approval a redesigned Petition for Reimbursement form. Reimbursement is limited to expenses approved in the budget and to the amounts budgeted. All expenses must be supported by documentation. Counsel must first pay any expense before seeking reimbursement and may not submit unpaid invoices to the court for direct payment to any provider. Absent demonstrated exceptional circumstances, expense reimbursement is limited to a total of $30,000. Limited interim reimbursement is available upon demonstrated exceptional circumstances for total expenses exceeding $10,000.
 
Reimbursable Expenses: The list of reimbursable expenses is revised to include the cost of hearing transcripts, to increase the hourly rate for investigator expenses based on current market rates, and to remove the per page limit on copying and printing expenses.
 
Approval Authority: A presiding judge must approve a budget or petition for total expenses up to $20,000. A presiding judge and the Bench Bar Fund Committee must approve a budget or petition for total expenses that exceed $20,000. Board of Judges approval is no longer required unless counsel requests that the Board of Judges reconsider a judge's or the Bench Bar Fund Committee's denial of a budget or petition.
 
Settlement: The Plan clarifies that appointed counsel may not reject a settlement offer because the offer does not include attorney's fees if the pro bono client is willing to accept the offer to resolve the case.
The revised Plan, new budget form, redesigned petition form, and related information are now available on the Court's website for immediate use. Questions may be directed to pro_bono_representation@flmd.uscourts.gov.