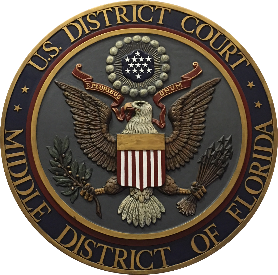 United States District Court
Middle District of Florida
The Middle District of Florida Welcomes the Honorable Timothy J. Corrigan as Chief Judge
On November 2, 2020, United States District Judge Timothy J. Corrigan assumed the duties of Chief Judge of the United States District Court for the Middle District of Florida. Judge Corrigan, who is stationed in Jacksonville, succeeds Judge Steven D. Merryday of the Tampa Division, who served as Chief Judge from August 1, 2015 to November 1, 2020.
President George W. Bush appointed Judge Corrigan to the federal bench in 2002. Before that appointment, Judge Corrigan served for six years as a United States Magistrate Judge. He received his undergraduate degree from the University of Notre Dame and his law degree from Duke University School of Law. Following his graduation from Duke, Judge Corrigan served as a law clerk for the Honorable Gerald B. Tjoflat of the United States Court of Appeals for the Eleventh Circuit and then spent 14 years in private practice.
Judge Corrigan is looking forward to this new opportunity to serve the judiciary and the people of the United States. One of Judge Corrigan's primary initiatives as Chief Judge will be to expand the Court's communications with members of the bar and the public. In doing so, Judge Corrigan hopes to promote public awareness of the Court's role in the community, keep members of the bar up to date on Court matters, and generally increase the Court's accessibility to the public.