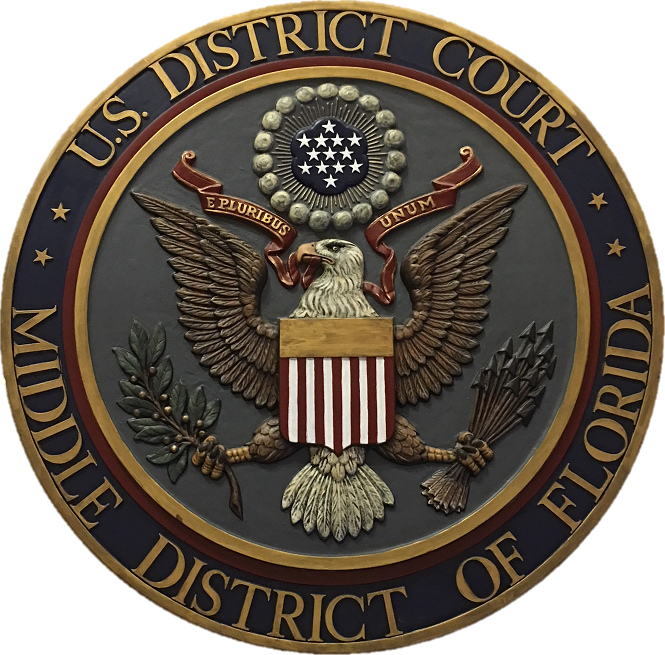 United States District Court
Middle District of Florida
LAURA LOTHMAN LAMBERT SWORN IN AS UNITED STATES MAGISTRATE JUDGE
On Thursday, November 4, Laura Lothman Lambert was sworn in by the Honorable Harvey E. Schlesinger as the Middle District of Florida's newest United States Magistrate Judge. Judge Lambert will be in the Jacksonville Division, where she is well familiar to all, having been a law clerk to Judge Schlesinger and an Assistant United States Attorney. Judge Lambert also clerked for the Honorable Phyllis A. Kravitch of the United States Court of Appeals for the Eleventh Circuit and served as a trial attorney in the Constitutional Torts Section of the Department of Justice in Washington, D.C. Most recently, Judge Lambert directed the Juvenile Division of the State Attorney's Office. Judge Lambert's formal investiture will be held at a later date. 
Judge Lambert succeeds the Honorable James R. Klindt, who retired on October 31, 2021 after 14 years as federal magistrate judge. Judge Klindt started his service in the federal courthouse in Jacksonville by clerking for the late Judge Howell Melton. He then began a distinguished career as an Assistant United States Attorney, rising up through the ranks and becoming Acting United States Attorney in 2007. He was selected as a magistrate judge in 2007 and served with great diligence and professionalism. Judge Klindt will continue his service to the Court as a recall United States Magistrate Judge. 
Please join the Middle District in welcoming Judge Lambert to the Court and congratulating Judge Klindt on his outstanding career.