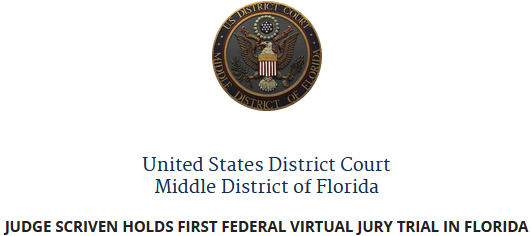 From January 25
–
29, 2021,
Judge Scriven
held the Middle District's first virtual jury trial in
Staple v. Northwestern Mutual
, Case No. 8:17-cv-3066-MSS-TGW. Read Judge Scriven's report on the virtual trial below.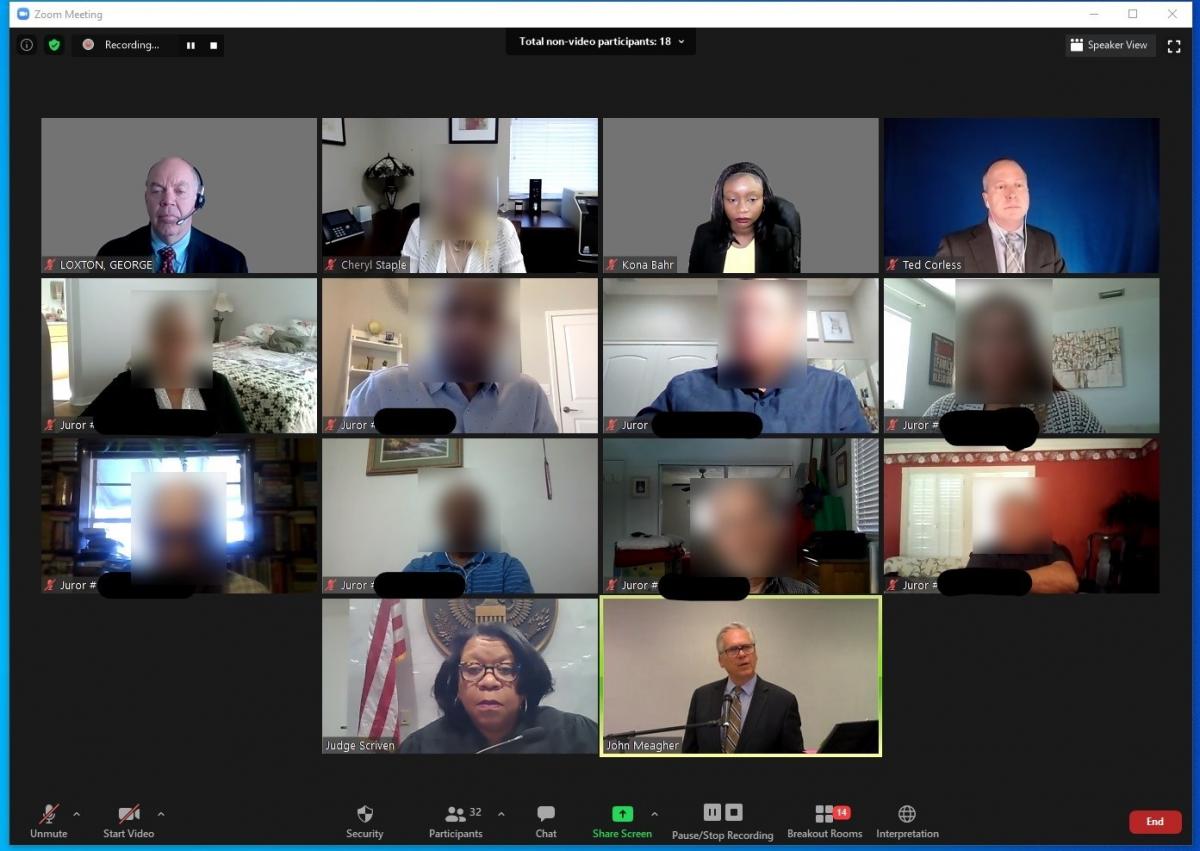 From January 25–29, 2021, our Court hosted the first federal virtual jury trial held in the state of Florida, via Zoom. Several folks have inquired about it and asked me to offer a synopsis of the process. Let me first say, I could not have been prouder of the way our Court performed in this moment. I am happy to report that the five-day civil trial—conducted entirely on the ZoomGov.com platform in light of the difficulties posed by the COVID-19 pandemic—flowed seamlessly from jury selection through deliberations. This is due in no small part to the tireless efforts of all court personnel behind the scenes, especially the efforts of Anaida Vizza and the jury staff, Lilliam DeJesus and Javaris Gooding-Butts and out IT department headed, in this effort, by Brian Harrison. The Court was additionally fortunate to have at its disposal the detailed procedures established by Judge Marsha Pechman of the United States District Court for the Western District of Washington, including a Virtual Trial Handbook for Attorneys and a Virtual Juror Reference Guide. We used these as models and modified them only slightly to fit our local needs. Those documents were docketed in the case. (Dkt. 331)
Theodore A. Corless of Corless Barfield Trial Group, LLC, served as lead counsel for Plaintiff Cheryl Staple, and John Edward Meagher of Shutts & Bowen, LLP represented Defendant Northwestern Mutual Life Insurance Company. Though vigorously fought, the lawyers conducted themselves professionally and, thankfully, possessed the technological aptitude to navigate through voluminous documentary and video evidence by screen sharing on the virtual platform with apparent ease. The jury was provided detailed Zoom instructions and followed them without any significant issues, from arrival for voir dire through the return of the verdict. The parties called witnesses live and by video deposition. Sidebars and jury deliberation were conducted in virtual breakout rooms on the Zoom platform. All-in-all, the proceeding contained no significant glitches or issues—and, to the extent there were any, there were no more than are typically seen in an in-person trial. In the high-tech world we live in today, the adjustment to a virtual setting was seemingly intuitive to all involved. I would do it again in a heartbeat, and I highly recommend the virtual trial procedure to other judges in the District facing a backlog of civil cases due to the pandemic.
Again, I offer my many thanks to our devoted, innovative, and cutting-edge staff in the Tampa Division, including my law clerks, Alison Fowler, Matt Craig and Alexis Jones, as well as Keshia Jones, Kristin Esposito, Amanda Craig, Caleb Houston, Cathy Morgan, Ashley Sanders, Bettye Samuel, Gretchen O'Brien, Lynne Vito, Shameeka Olden, Laura Ruiz and Brantley Weeks, (I hope I did not forget anyone), for their tireless efforts in making this virtual jury trial an enormous success. I would especially like to thank my CRD, Cynthia Biron, for her unflappable demeanor, valued skillset, and ability to quickly conquer the steep learning curve associated with this groundbreaking process. I am, of course, available to answer any questions anyone may have.