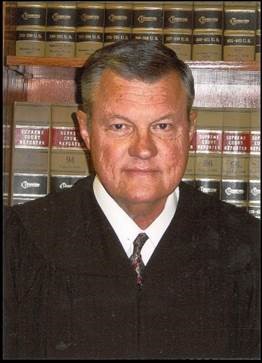 An extraordinary individual and jurist, William Terrell Hodges passed away on January 4, 2022 at the age of 87. Judge Hodges became a United States District Judge for the Middle District of Florida on December 15, 1971. He was only 37 years old. He served as chief judge of this district from 1982 to 1989. He took senior status in 1999 and retained a full docket until 2015. The Court celebrated his 50th anniversary as a federal judge last month. Judge Hodges became a national figure and a legendary judge, but his first love was always the Middle District of Florida. He often said that being a federal judge was "the greatest job in the world." 
Judge Hodges married the love of his life, Peggy, in 1958 during his last semester of law school, and they enjoyed a 59-year marriage. They had three sons: Judson, Danny, and Clay. Judge Hodges' father was a barber in Lake Wales, a part time police officer, and the owner of two small citrus groves. His mother was a homemaker and part time clerk in a retail store. He attended public school and graduated from Lake Wales High School in 1951.
A proud graduate and supporter of the University of Florida, earning his B.S. in 1956 and J.D. in 1958, Judge Hodges could often be found at a Gator football, basketball, or baseball game, cheering on his team. After completing law school at UF, Judge Hodges practiced with a firm in Tampa for 13 years before becoming a district judge. 
Judge Hodges served this district in the Tampa, Jacksonville, and Ocala divisions. He presided over innumerable trials and proceedings, including many significant and high-profile cases. With his calm and patient demeanor, ability to cut to the heart of the matter, and fair treatment of everyone, Judges Hodges gained the respect of his fellow judges (whom he always referred to as his brothers and sisters) and lawyers.
Judge Hodges held many national leadership positions within the federal judiciary. In 1987, Chief Justice Rehnquist appointed him to serve as a member of the Judicial Conference's Advisory Committee on Criminal Rules, which he chaired from 1990–1993. In 1994, Chief Justice Rehnquist appointed Judge Hodges to serve on the Executive Committee of the Judicial Conference, the chief policy-making body of the U.S. court system. The Chief Justice later appointed Judge Hodges chair of the Executive Committee, making him the second district judge in the history of the conference to serve in that position at the time.
Judge Hodges was a founder and former president of the American Inns of Court, Tampa Chapter and president of the American Inns of Court, Jacksonville Chapter. He was the recipient of many awards, including the Edward J. Devitt Distinguished Service to Justice Award—one of the highest awards a federal judge can receive—presented by Supreme Court Justice Stephen Breyer. 
Over 40 young lawyers served as law clerks in chambers with Judge Hodges. He was a teacher, mentor, and friend to each of them, and considered his law clerks to be his extended family. His favorite saying to his law clerks was, when in doubt, "always look at the rules." Judge Hodges carried a dog-eared copy of the Constitution in his suit pocket every day, and a pocket copy of the Constitution became a favored gift to bestow on a law clerk at the end of a clerkship, what Judge Hodges always called, "the second-best job in the world." Three of his law clerks now serve as magistrate judges in the Middle District of Florida.
Aside from a legal acumen second to none, Judge Hodges also possessed a tremendous sense of humor. He loved to share stories from one of his favorite comedians, Jerry Clower, and discuss current affairs and pop culture with his law clerks.
Judge Hodges is survived by his sons Judson Hodges, Danny Hodges (Jennifer), and Clay Hodges, his daughter-in-law Kimberly Hodges, his grandson Benjamin Hodges, several cousins and extended family members, and countless friends. His hard work, integrity, humility, and kindness will be remembered by all in the Middle District. 
Click here to read more about Judge Hodges's impressive life and career in the Spring 2016 edition of the 11th Circuit Historical News.