Wednesday, January 12, 2022
For the fourth year in a row the Jacksonville Jaguars hosted a Naturalization Ceremony at TIAA Bank Field during the halftime of the Jaguars game against the Indianapolis Colts on Sunday, January 9, 2022. The Honorable Marcia Morales Howard, U.S. District Judge for the Middle District of Florida, administered the Oath of Allegiance to 74 new citizens from 32 different countries, ranging in age from 19 to 66.
The federal judiciary is committed to engaging the public in projects that educate citizens and naturalization ceremonies hosted by federal courts throughout the United States provide an excellent opportunity to pursue that commitment. At these ceremonies, immigrants who have worked for years to complete the arduous requirements of U.S. citizenship swear their allegiance to the United States and receive their naturalization certificates, the final step in becoming a citizen of the United States. 
Prior to the pandemic, Jacksonville federal judges demonstrated their commitment to public outreach by hosting naturalization ceremonies every month in the Ceremonial Courtroom of the Bryan Simpson United States Courthouse, at schools, and other community venues. Family members and friends of the new citizens, students, community leaders, and members of other community organizations were able to attend and witness these meaningful ceremonies. The ceremonies provided an opportunity to celebrate the new citizens' achievements, and an educational experience about what it means, and what it takes, to become a U.S. citizen. Since the onset of the pandemic, the Court has not been able to host ceremonies with large audiences within the confines of the courthouse, school auditoriums, or other public venues. 
However, an outdoor naturalization ceremony at halftime of a Jaguars game has become an important tradition for the Jaguars, the Court, and the United States Citizenship and Immigration Services despite the pandemic. Judge Howard says,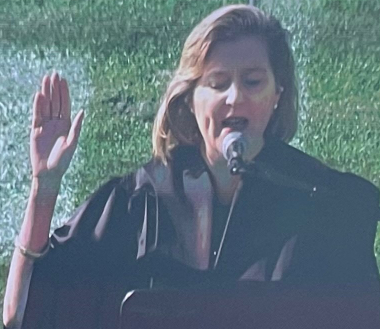 "It was an honor to share this meaningful ceremony with the community. The hard work and commitment that these 74 individuals invested to become our fellow citizens is a testament to the greatness of our country. One need only see the expressions of pride, hope, and joy that explode across their faces as they are declared United States citizens to be reminded of how lucky we are to be American citizens. We are so pleased that the Jaguars have continued the tradition of sharing this important civics lesson and reminder with their fans and broadcast audience by finding a way to conduct this public halftime ceremony within CDC guidelines and the Jaguars' 2022 Stadium Protocols." 
During this difficult time for all of us, Judge Howard and Lisa Bradley, Field Office Director of DHS-USCIS, appreciate and thank the Jacksonville Jaguars for their cooperation in providing a lesson in citizenship to thousands of Jaguars fans as well as graciously and safely hosting the new citizens and their families at this game.
Photographs of the naturalization ceremony provided courtesy of the Jacksonville Jaguars.