2020 Motherhood Art Competition – Tampa – Winners Announced
On December 17, 2020, the Tampa Bay Chapter of the Federal Bar Association, in partnership with the Hillsborough Association for Women Lawyers, recognized art students from Blake High School, a Title 1 magnet school for the arts in Hillsborough County, for their participation in an art competition. The theme of the competition was "Motherhood," and the winning entries will be on display in the Nursing Mothers Lounge, located on the tenth floor of the Sam M. Gibbons United States Courthouse in Tampa. The funding was provided via the Bench Bar Fund of the Middle District as part of its outreach program to local schools. More than 50 outstanding entries were submitted with the following winners announced:
FIRST PLACE: Mya Watson $300 (artwork shown below)
SECOND PLACE: Jaiden Gordon $200
THIRD PLACE: Olivia Smith $100
HONORABLE MENTIONS:
Evan Gatsacher $50
D. Williams $50
Melanie Sttroner $50
Lionel Leonard $50
Congratulations to the winners and to all of the talented students who participated in the program.  A special thank you to art teachers Molly Dressel and Linda Galgani from Blake High School in encouraging students to participate.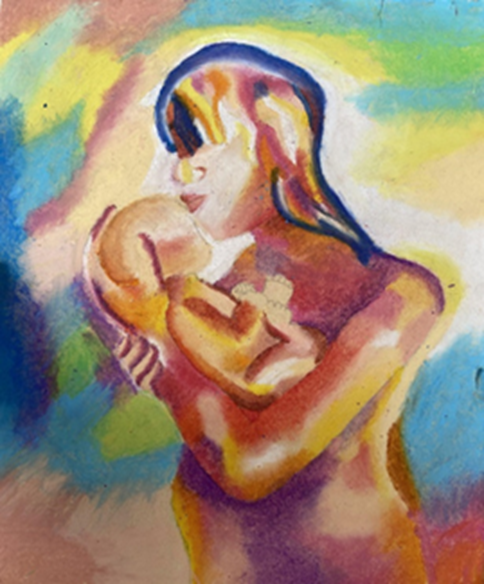 The winning entry of the 2020 Motherhood Art Competition was painted by Mya Watson.